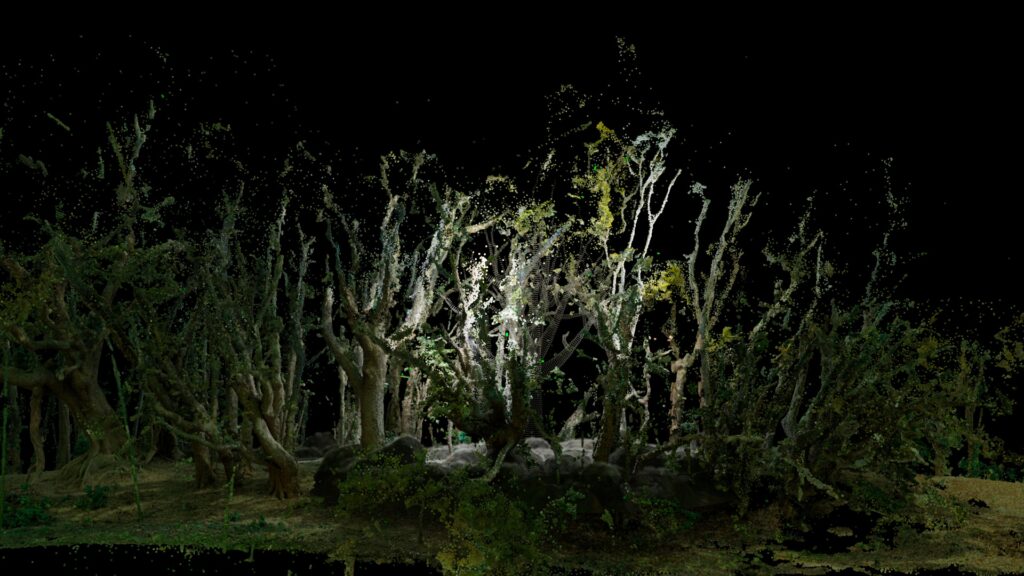 Witness Tree Project Founders: Clarisse Hart, Katharine Hinkle, Tim Rademacher, Lynda Mapes.
Data visualization + interactive display: Yiou Wang, 2023.
Nestled within Harvard Forest in Petersham, Massachusetts, stands a 110-year-old red oak, the Witness Tree. Its historical significance comes from its endurance through climatic shifts. Equipped with sensors and cameras, data on growth, physiology, phenology, and sap not only shed light on the long-term local climate resilience of the northeast hardwood forest, but provides a unique lens into what the tree is sensing and experiencing. That is how the project combining art, ecology, and tech is titled a sensorium. Every bit of a forest is alive, sensing and in flux, translated to the public via time-based media. Live data from various sensors feed its Twitter, @awitnesstree, a relatable conduit for its wealth of information in the tree's first person perspective. Tim Rademacher's inspiration was TreeWatch, aiming to translate technical data into personal narratives. This living archive, supported by climate data since 1964, enhances its context and engagement on climate change. The interactive 3D data visualization, created by Yiou Wang, uses tabular and pixel data as a lens to capturing the sensorial affect of the tree's unique journey, bridging climate awareness and data understood as perspectival phenomena.
The lidar data used in this visualization was collected by the team of Schaaf Lab, UMass Boston, processed into point cloud by Yiou Wang, who also lidar scanned part of the Witness Tree. As a data processing method, photogrammetry stitches together multiple 2D images to reconstruct a 3D geometry in the worldspace, a workflow that stands in contrary to the very concept of representation, which is defined by generating snippets from a real object. From a collection of continuous 2D footage, photogrammetry restores the temporal path of the camera, with which it creates space. Lidar is a method of data collection that measures the time light reaches certain points. Lidar uses time to create space. The lidar-photogrammetry technical workflow perfectly fits the essence of the story we want to tell – exploring time, characterizing and mapping a particular tree on the reference of time.